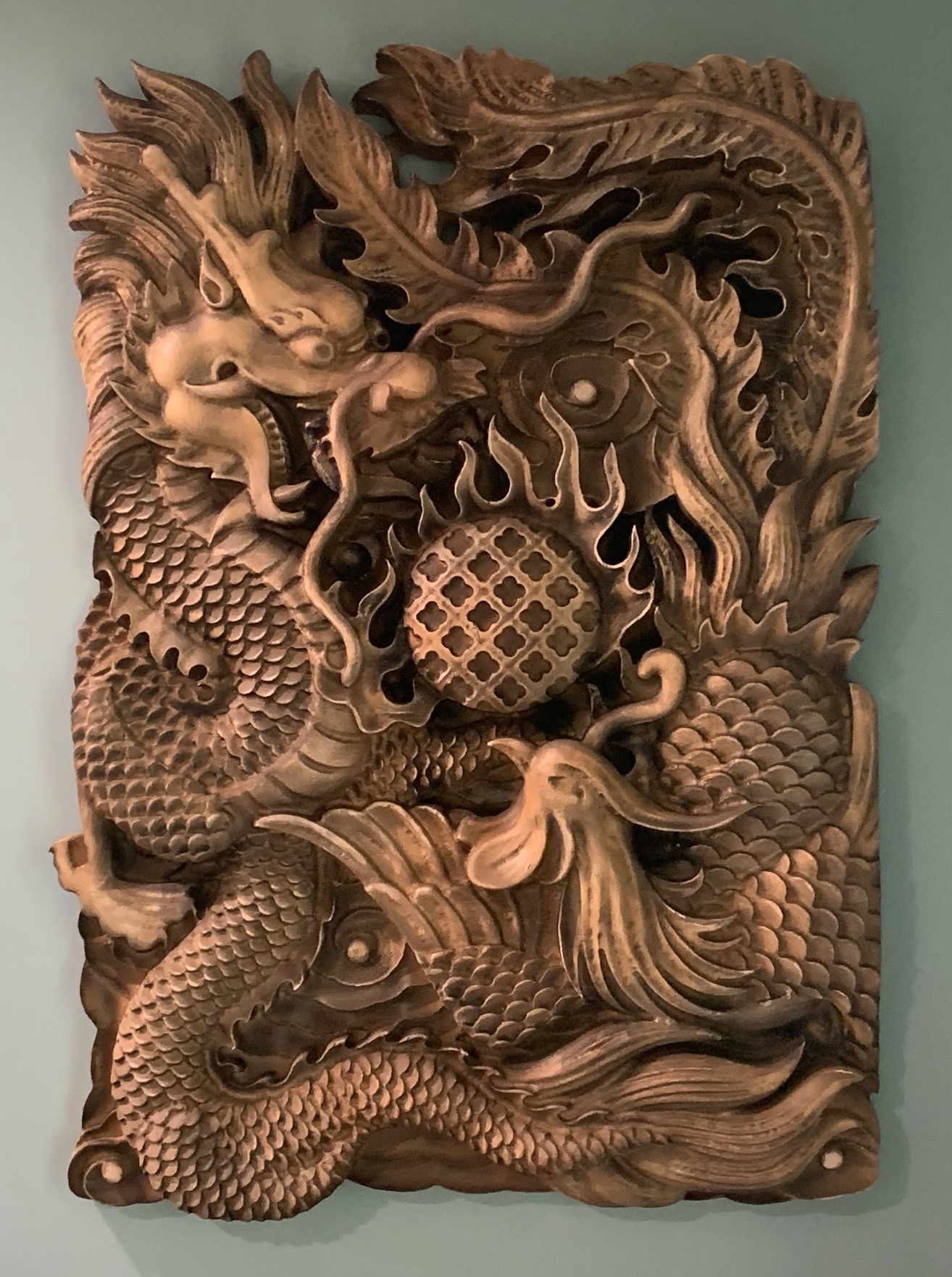 We ordered a custom carving piece for our entryway and Mike's work was not carpentry. It's ART. Not only art, but one of a kind!
I can't believe how amazing it turned out. The work is outstanding! It truly is a statement as soon as you walk in the door. I just keep starring at it, so much character, so different from anything I've ever seen. They listened to all my requests carefully and made everything just perfect, perfect size, perfect color, perfect design. If you are looking for something one of a kind, Old fox custom carpentry is a way to go.
Larysa Deng
The Old Fox team did a great job installing our stairs and railing. Every step of the way they kept in contact with us to schedule a time to do the work that fit our needs. They were on time and completed the job just as we described. Our stairs turned out great and we highly recommend Old Fox. The team is professional, responsive, knowledgeable and good people skills. I couldn't be happier with the work that we had done by Old Fox.
Olia Koshil
Ordered this board with logo for my business, looks awesome in my shop. Absolutely satisfied with the product.
Serg
So in love with my custom made coffee table. Took us couple minutes to discuss design and a few weeks to receive this masterpiece. Great work, great quality. Real pleasure to work with you guys.
Viktoria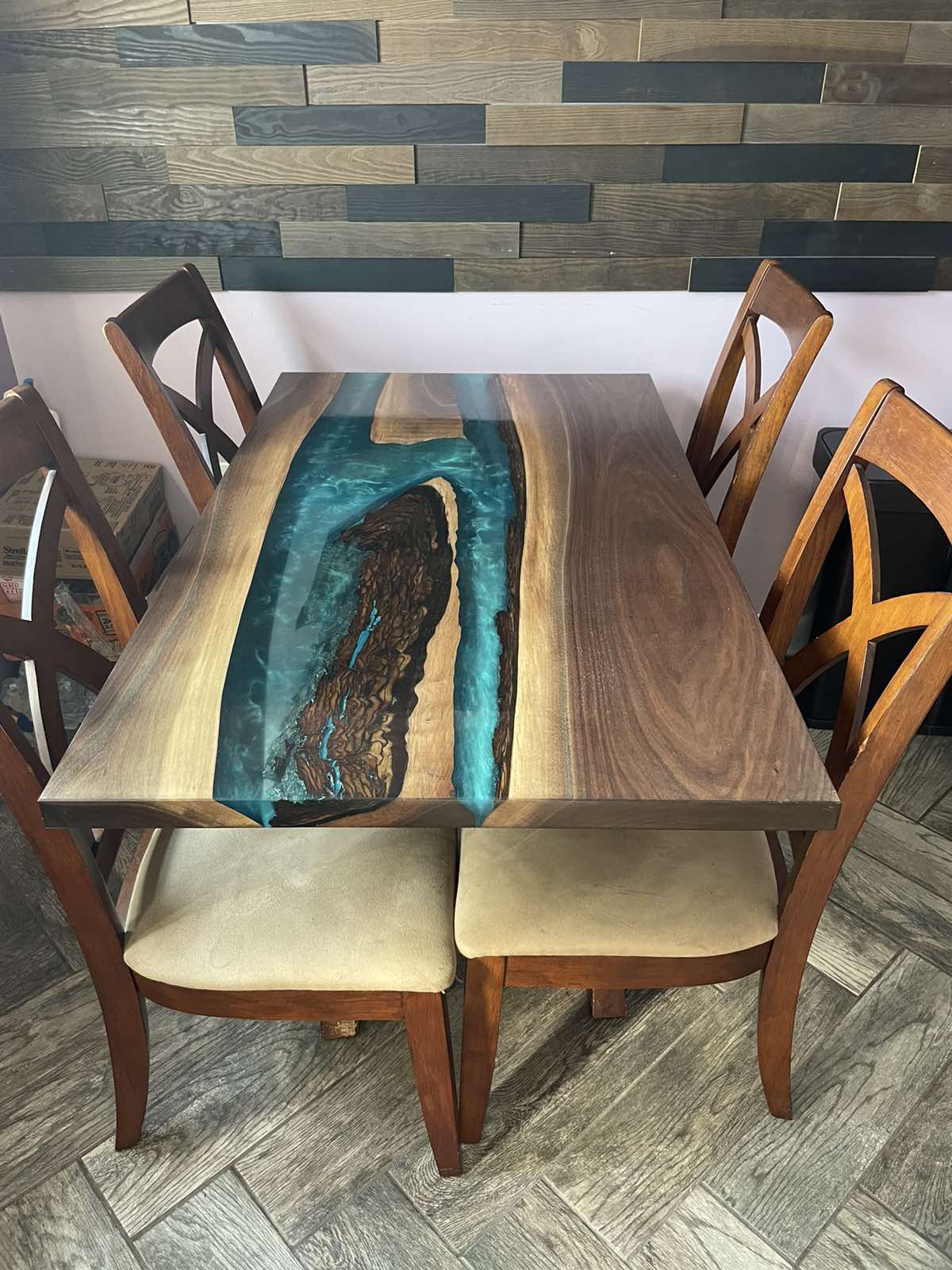 Was looking for dinning table for a long time, something uniq and not really big to fit in my dinning room. Table easily fits 6 people and perfectly looks in my apartment. Great job, thank you!!!
Serg
I was referred to Old fox by an old friend of mine who had some work done around the house. He highly recommended Nick from his own experience and let me tell you how happy I am that I listened to his advice. Nick's job was immaculate. He listened carefully to all my wishes and concerns and done everything exactly how I wanted. He basically read my mind. The staircase and railing turned out gorgeous! It's not only beautiful but very convenient to use for anyone. Railing became a unique statement to our home design as well. No one can pass by without complimenting it and asking who got this done for us. I highly recommend Old Fox carpentry to anyone. The work is outstanding and pricing is right.
Maria Dukh
I am proud Ukrainian. And after the war started in my country I am always looking for ways to represent myself, my country, my position. The Old Fox made this all possible. They made for me incredibly Tryzub. Not only it is high quality work but also unique. I felt spectacular conaction to my country holding the Truzyb. Not only they did everything I asked for, they put magic in it. You can see that they put their own soul and heart in their work. Thank you very much!!!
Christina Bilyk
I will be honest leaving this feedback as i was looking for a reliable and honest contractor to upgrade the staircase in my house and if you looking for one look no further-Nik an his team made absolutely stunning project in a timely manner and whats more important the price is reasonable so save your time and money as this team is what you are looking for!!!
Ilya Varabei
He did a very fast and perfect job. OldFox did my custom stairs for my endless pool and they also did a Custom logo for the entrance. This company can do a job that most companies can't do! I really recommend OldFox!
Vitaliy Zatonskyy
Amazing quality and everything is in time.
Oleg Umryakov
Beautiful work, their Trident 🔱 made an amazing souvenir, 5 star service. Product was delivered next day. Amazing. They can personalise it for you, such an attention to detail. Their work is a masterpiece. Love, love, love it ❤️
I would highly recommend them
Valentyna Lew
Had a custom order, they were able to make it exactly to what I wanted. Always are open for communications and changes. Highly recommend and probably going to use their services once again.
Sergey Nemtsev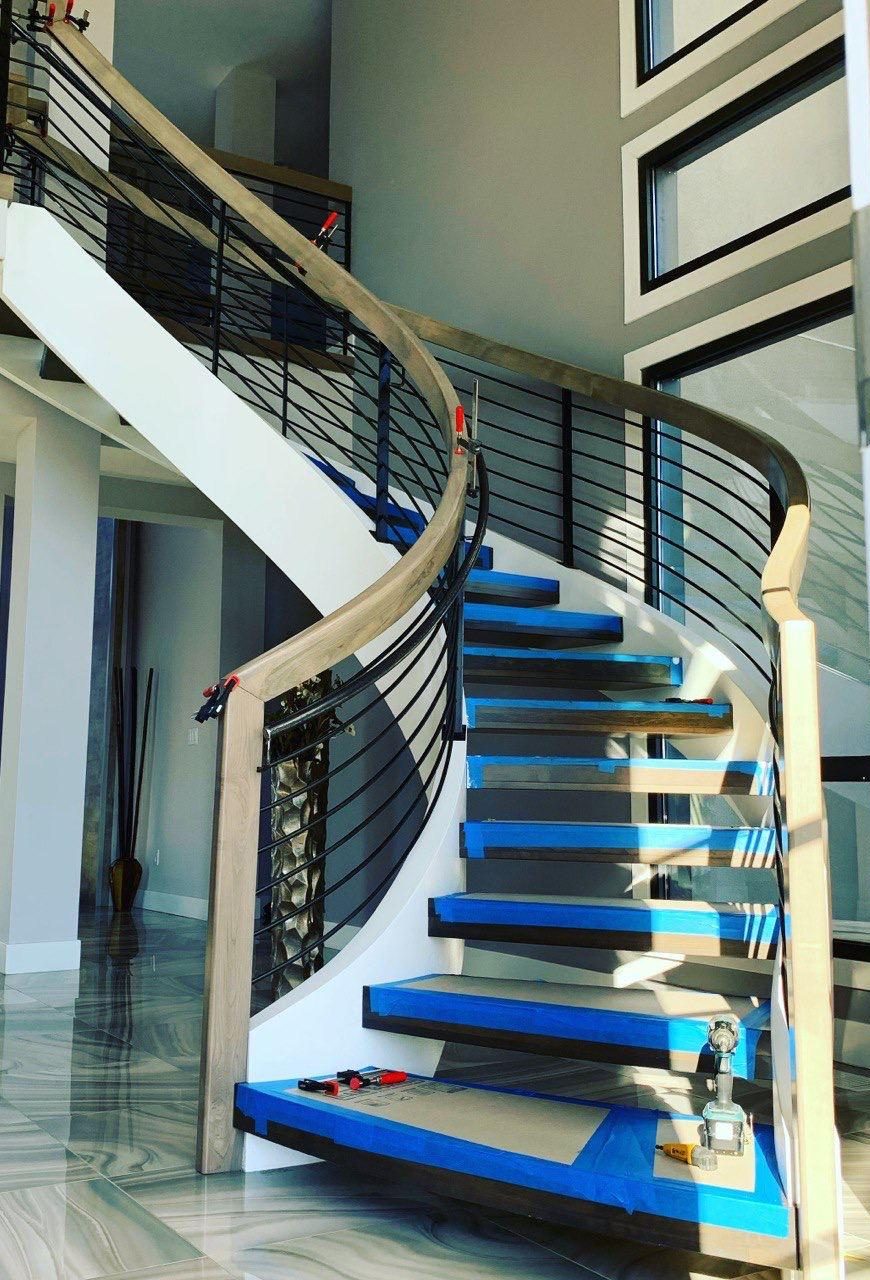 My staircase was started by a carpenter who just disappeared after 2 months of work that was going very slow. I was very fortunate that I found old fox company who finished the majority of the work and was able to match the wood color of the railing that was started in a few places by previous carpenter. I searched for a carpenter who can do the custom work and I am so grateful I found them. I had no staircase for 3 months. Thank you Kola for your professional and beautiful work.
Annette Frey
Great service,very professional.
I had amazing experience to work with Nick and his company)
Thank you so much for great job to my custom projects♥️
Nataliia Senk
Ordered decorative piece of the electronic entry sign for the Church. Great attention to details, excellent craftsmanship, really easy to work with. Would strongly recommend!
Asik Kobasik
They created a custom kitchen table for our oddly shaped breakfast nook. I had a vision and it was executed beautifully. Wonderful company to work with - so kind, timely, and hardworking. 5 stars!
Laura Riley
❤️❤️❤️ Wonderful work by professionals. The husband is delighted. Thanks for the design. We are preparing for the second order.
Roksa
We made an excellent table made of epoxy resin to order. We created everything according to my fantasies) It's great that someone can make your wishes come true. Everything turned out great 🔥 We will continue to work) Thank you
Viktoryia Baranavа
Thank you so much for the incredibly beautiful and compact dressing room. I like it very much🧡
Viktoryia Baranavа
Nick from OLD Fox Custom Carpentry exceeded all expectations on this project. Nick and his crew were very punctual, on time, and followed up with all phases of the project. Nick and his crew were very neat, meticulous, and have splendid craftsmanship skills. I have had many projects done in the past but Nick is the most talented carpenter I have had so far. I will definitely return to Nick/Old Fox Carpentry in the future. If you are reading this review you should book Old Fox immediately because they are the best!
James
Nick is an amazing craftsman. He delivered a custom bookcase and everyone loves it. I would definitely recommend him for any carpentry work.
Raghu Sai
The dining room in our house is and odd shape. I couldn't find a table that will fit there and that could comfortably sit 12 people. I needed something skinny and long. Custom was the only way to go. It took me 3 months to find a carpenter that wouldn't cost an arm and a leg to do the job and who would be able to deliver exactly what I want. I even ordered a table from another contractor and we had to part ways in the middle of the job because he couldn't complete it.
Mike was there every step of the way. He came to take measurements and got the job done in 3 weeks! Completely custom to our room size dining table, made, painted and delivered in 3 weeks! Yes!
I can not be happier with it. He even managed to put a hidden shelve for me! Cuz there is never too many drawers to hide house junk.
Thanks and I would totally recommend him to anyone.
Kit Deng
Received this beautiful clock from them. The quality is incredible and you can tell it was made with such love and care! It shipped quickly and the seller was very responsive.
Elizabeth Staats
Old Fox replicated interior antique doors in a historic home for us perfectly. After staining you cant tell the difference between the doors were made by him and the doors made 200 years ago. Nicks attention to detail and craftsmanship is amazing. If you are need high quality custom woodwork Old Fox is the way to go.
George Bantel
Very pleased with the Old Fox service. Our kitchen cabinets are custom made and designed just like we wanted. High quality and professional service makes me say that I highly recommend Old Fox Carpenters
Oleksandr Ganchii
My wife is very glad that have such laundry. Thanks, Old Fox for their professional work. I recommend OldFox company to my friends.
Taras Finiak
Professional work and excellent service. I was very pleased with the finished custom tabletop they designed and built for me. It was perfectly crafted and exact to my specifications.
Yuriy Andrushchuk
Nick from Old Fox is the best. Nick is professional, friendly, accommodating and has great ideas. His attention to detail and doing quality work is apparent. Nick is an expert in his field and offered several designs and suggestions for the job. The quality of materials and workmanship of the deck and railing are excellent The final result turned out great. I highly recommend Old Fox, and would use them again in the future.
Andriy and Nadia.
Andriy Mokrytski
Very nice professional crew. Our new custom built-in bookcases are outstanding! Punctual and friendly, conscientious and very talented. We will recommend to all our friends in New Hope. Great company.
John McGlynn